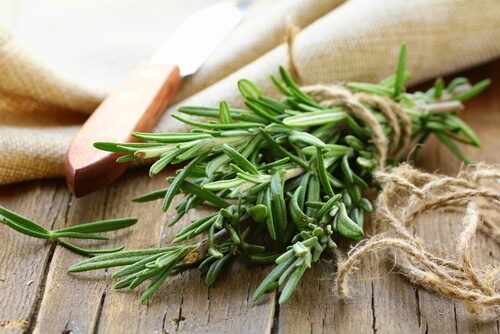 This fragrant herb originates from the Mediterranean, and most people associate it with cooking, where it has a use for flavoring a variety of dishes. Rosemary is a member of the same family as thyme, oregano, and basil. This perennial shrub lives for longer than 2-years, and it's grown all over the world in commercial farms and private herb gardens.
Rosemary also features surprising health benefits as well. The herb is rich in calcium, iron, and vitamin B6, as well as polyphenol micronutrients that have potent effects on the nervous and digestive systems. Perfume manufacturers rely on rosemary in their formulation, as it provides a distinct earthy fragrance.
In its spice format, rosemary comes as whole leaves, or a ground powder to flavor chicken, beef, and lamb recipes. However, rosemary has benefits in traditional medicinal treatments as a muscle relaxant, immune booster, and circulatory enhancer.
Here are the top eight health benefits of consuming rosemary in your diet.

1. Potent Polyphenol Compounds
Polyphenols are compounds found in fruit, vegetables, and herbs – producing the plant's natural characteristics. Polyphenols give plants their color and flavor, as well as their therapeutic properties. Rosemary is rich in polyphenol antioxidants, making it a particularly useful herb for treating a variety of health conditions.
As part of the same family as mint, the menthol properties of the herb provide potent anti-inflammatory properties for the skin and digestive system. Eating crushed rosemary helps to reduce gastrointestinal inflammation responsible for a slew of digestive diseases and dysfunctions.
Consuming rosemary in your diet also helps to reduce systemic inflammation in other areas of the body. If you suffer from arthritis or issues affecting the nervous system, then eating rosemary can help relieve your symptoms of pain and irritation.
Combining the oil; with a carrier oil, such as coconut oil or olive oil, allows you to use it as a skincare lotion to help heal the crack on your feet and elbows.