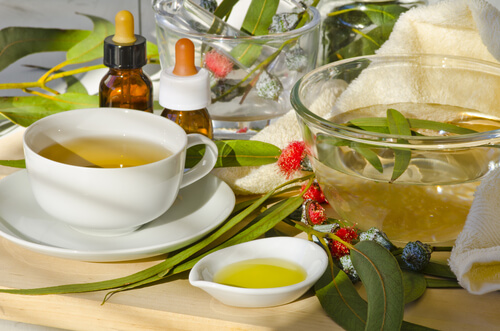 Native to Australia, the quick-growing eucalyptus tree and the oil which derives from it has long been harvested for its potential to alleviate the troublesome symptoms of persistent coughs and lingering colds. Eucalyptus is also regularly found in topical treatments for joint and muscle pain, in the form of lotions and creams.

The oil is also used as an antiseptic, in perfumes as a key ingredient in a whole host of cosmetic variations. For thousands of years, civilization after civilization has utilized eucalyptus in order to treat many varied conditions.

Whilst there are hundreds of different eucalyptus species, it is the Blue Gum variety which is used most of all, known around the world. The oil is extracted via the steam distillation of the leaves, resulting in a colorless liquid, easily identifiable by its fragrant scent.

There are many different applications of eucalyptus, with 8 of the most healthful used listed and explained here.

1. Antimicrobial Properties
Somewhat ahead of their time, medical practitioners in 19th century England used eucalyptus oil as the main cleaning agent for urinary catheters. There wasn't really a better natural option available then, and there isn't now, given its natural antimicrobial action. The interaction between the essential oil and existing antibiotics, which has been found to be positive means that existing and developing infections of the future could potentially be treated by eucalyptus oil synthesized antibiotics.
The essential oil has powerful antimicrobial properties on its own, as that 19th century Brits knew all too well, but when manipulated within modern medicine, the potential applications and uses for this naturally occurring essential oil multiply, leaving one to wonder how many illnesses and diseases it could hold the key to unlocking a cure for.
Whether the Brits were using it for its antimicrobial value, or simply because it smelt nice is difficult to ascertain, however, their practice is now backed up by scientific research.