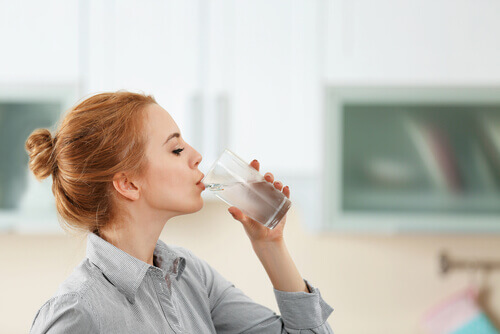 Headaches are a common nuisance that most of us have just learned to accept. These annoyances can come in all intensities from minor discomfort to head-splitting torture. Some can become so bad that they disrupt your daily routine and affect your performance at work. There are various types of headaches. The most common type of headaches is tension headaches. On the other hand, cluster headaches come in painful groups, or clusters, as their name suggests.
Migraines describe a more severe form of a headache. While there are various medications that claim to relieve these ubiquitous disturbances, there are also many natural treatments available that can be just as effective without bringing all the side effects that conventional treatments would.
Often times it's best to explore the natural options available to you before you resort to taking pills. The same rule holds true for headaches. Today we're going to go over eight of the most effective headache remedies.
1. Drink water

Dehydration could lead to the development of headaches. There are many studies proving that chronic dehydration is the leading cause of migraines and tension headaches. Luckily, the same studies also show that you can relieve the symptoms of your headaches by drinking water. Drink small amounts of water frequently and you should see most or all of your symptoms subside anywhere from half an hour to three hours.
Beyond headaches, dehydration can also make it harder for you to concentrate and even make you more irritable than normal. When all these symptoms combine, it makes for a cocktail of misery. If you want to avoid dehydration-induced headaches, be sure to get enough water and eat some moisture-rich foods.
If you don't drink water very often, including cabbage in your diet could help you get the moisture that your body and mind needs to operate at optimal efficiency since cabbage is mostly water anyway.