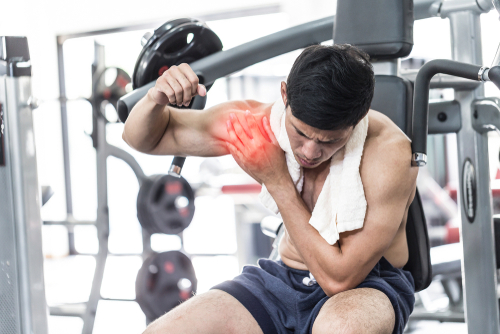 Pain in the shoulder blades is not uncommon; in fact, it is estimated that as many as 67 percents of Americans will experience this type of pain at some point in their lives.
The pain can occur directly in the shoulder blades themselves, in the space that lies between the shoulder blades, or in the muscles that surround the shoulder blades. The pain can range from mild to moderate to severe. It can also last for a short period of time and never return again, it can wax and wane, or it can be chronic and always be felt.
If you are experiencing pain in or around your shoulder blades, there's no doubt that you are feeling alarmed; especially if the pain comes on suddenly or worsens over time.
There are several potential reasons why this type of pain can occur; some aren't concerning, while some are and require medical care.
1. Frozen shoulder.
Medically referred to as adhesive capsulitis, frozen shoulder is a common cause of pain in the shoulder blades. It's comprised of stiffness and pain, and in severe cases, it can reduce mobility.
The specific cause of a frozen shoulder is not yet known; however, it's believed that there are multiple factors that could cause it.
Diabetics have an increased risk of developing this condition, as well as those who have problems with their thyroid (hyperthyroidism, or an overactive thyroid, and hypothyroidism, or an underactive thyroid).
Individuals that have Parkinson's disease are also prone to developing frozen shoulder. Immobilization, or lack of use of the joint, can also lead to a frozen shoulder. If you are suffering from a frozen shoulder, it is important to seek medical care to rule out any serious underlying medical conditions that could potentially be causing the condition so you can receive appropriate care.