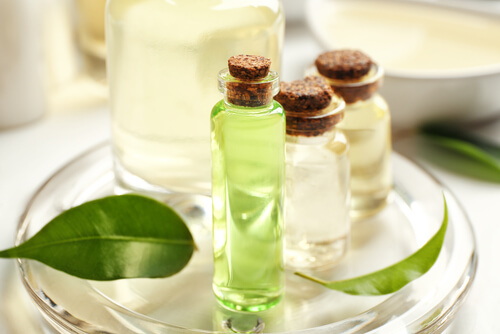 Extracted from the leaves of a small tree native to New South Wales in Australia, tea tree oil is a handy little substance with many proven benefits. Aborigines have used tea tree oil as a natural remedy and traditional medicine for centuries, often crushing fresh tea tree leaves in order to extract the oil in its purest form. Traditionally, tea tree essential oil has been used to treat respiratory problems through inhalation, as well as cuts and scrapes with topical application.

Tea tree oil can be widely purchased as undiluted oil, meaning that it contains 100% strength. The range that is available to buy can also go as low as 50%, but if the Aborigines went for the fullest variety, it might be worth sticking to the know-how that has been passed down from generation to generation.

The following list explores and expands on some of the best known proven benefits of using tea tree oil.
1. Hand Sanitizer
An ideal natural alternative to chemical-based sanitizers, tea tree oil-based sanitizers can be just as effective when it comes to killing several strains of illness-causing bacteria and even more effective with others.
E Coli, for instance, was found in some studies to be more effectively broken up and wiped out by tea tree-based agents than when attacked with commercially produced chemical products. Another tick in the tea tree oil box when choosing a hand sanitizer has to come with the fact that it is eminently more environmentally friendly from leaf to litter than the many branded varieties of hand soap.
For a start off, any hand sanitizing gel that is naturally founded will not contain the dreaded microbeads of plastic, which are waging war and wreaking havoc in our oceans. Any move away from this type of product has to be a couple of steps in the right direction.