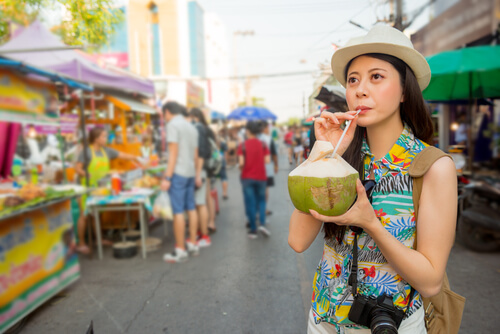 Food fads come and go, but for trends backed by evidence, it looks like coconut water is here to stay. This tropical water is a good source of a number of nutrients and can help prevent diseases. Not only is it healthy, but many people crave its natural sweetness and its subtle nutty flavor. It can provide many of the same benefits as sports drinks without the sugar and the caffeine. In addition, coconut milk can lift the spirits and provide a flavorful alternative to plain water after a workout.
Athletes prize coconut water as a way to improve stamina, to jump-start energy and provide refreshment after a long run or bike ride. Tennis player John Isner has praised the benefits of coconut water and believes that the beverage was primarily responsible for giving him the energy needed to complete his 11-hour Wimbledon victory. Isner discussed coconut water's hydrating properties and its ability to prevent cramping even when the weather and the match heated up. Coconut water is not just for Wimbledon champions but can provide benefits for anyone who wants to enjoy a healthy, delicious drink.
1. Good Source of Vitamins and Minerals
You may start your day with a fortified breakfast cereal or granola bars that are fortified with vitamins and minerals. Coconut water may be a good addition or replacement because it packs many of the same vitamins and minerals without the additives. This drink is naturally filled with essential nutrients that many people do not get enough of. It has double-digit percentages of the recommended daily allowances in potassium, magnesium, manganese and vitamin C and is a good source of calcium. You can also get a decent dosage of fiber from drinking coconut milk.