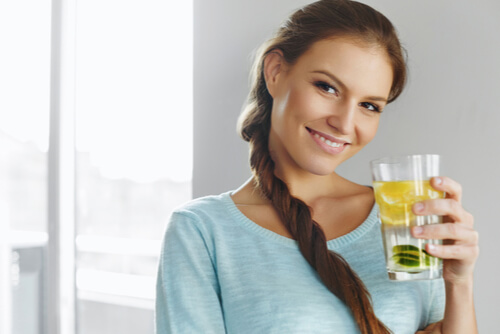 There are many experts including nutritionists and doctors who are encouraging people to start drinking lemon juice or lemon water because lemons are rich in vitamin C. Vitamin C is known to neutralize the free radicals in the body. Free radicals in the body may lead to many different types of diseases including cancer.
Lemon juice has an alkalizing effect on the body which greatly helps to balance the pH levels within the body. The little lemon has a big nutritional punch. It is a good source of antioxidants. These antioxidants help to neutralize the free radicals from oxidizing cells. In addition, it helps to stimulate the digestive system and flushes out toxins that are in the body.
If you are already enjoying the cleansing, tangy, and refreshing taste that lemon water has to offer, you are already on your way to better health. If you have not tried this refreshing and incredibly detoxifying drink yet, now is a good time to start. As you will see throughout this article, there are many great health benefits offered from drinking lemon water every day.
Let's take a look at 30 of the amazing benefits that lemon water has to offer.
1. Replaces Electrolytes
Lemon water can replace electrolytes just as well if not better than many of the commercial electrolyte drinks that are on the market. If you work out, a replenishing workout drink that does not contain fructose or come with a high price tag is just what you need. Simply mix some water, lemon, a bit of sugar and salt, and you will have a great drink for after your workout that is both natural and healthy for you. In addition, this mixture will help ensure that you are properly hydrated after your workout.