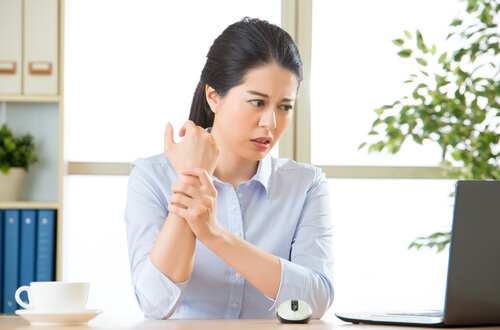 The majority of people have already heard of Carpal Tunnel Syndrome in their lives; it's a chronic condition that affects the nerves in the wrist – usually by inflammation and pinching of the nerve over time that can sometimes require surgery to fix. But have you ever heard of Cubital Tunnel Syndrome instead?

Cubital Tunnel Syndrome is a condition that instead affects the ulnar nerve, located in the elbow – the one most people know as their "funny bone." Similar to Carpal Tunnel, it's a condition often seen as a working injury for anyone who uses their hands a lot to do their job, and it can lead to needing surgery if it's left untreated for too long.

It's important to know your way around the symptoms if you want to know how to recognize the disorder – and see your doctor.

Here are 9 general symptoms of Cubital Tunnel Syndrome to know:

1. Pain in the Wrist

Experiencing any kind of radiating pain in the wrist is usually the first sign that there's some kind of problem. The pain can take various different forms, and it can usually be described as a stabbing sensation, while other people might describe it as a burning or tearing in the wrist instead. The pain might make mobility for the hands difficult, and it's usually when over-exerting the wrist that this problem becomes apparent.

Pain in the wrist is usually persistent or triggered by any repetitive motion. Once the pain sets in, it can radiate throughout the hand – especially if left ignored for too long. When this happens, anti-inflammatory medication and heat can sometimes offer relief, but while it helps the symptoms it won't be a cure for the chronic, long-term condition.

In long-term cases, occasional swelling of the wrist and elbow might also become characteristic when the pain flares up.