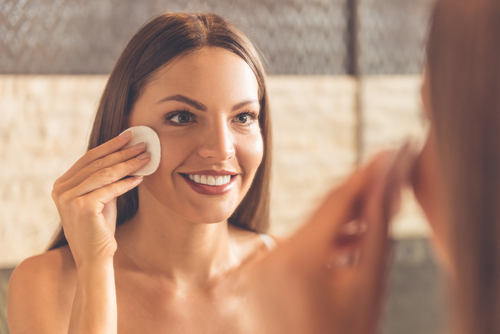 The jojoba shrub is native to the southern areas of California and Arizona, as well as Northwestern Mexico. The seeds of the plant produce the highly valued jojoba oil for use in traditional medicine. It may surprise you to learn that jojoba oil is a wax, not an oil – with a higher viscosity than most other essential oils.
Jojoba has multiple health benefits for the skin and hair, making it a useful moisturizing compound that can replace commercial moisturizers. The waxy oil is an effective natural treatment and moisturizer for anyone suffering from psoriasis or eczema, where users may have a sensitivity to commercially produced skincare products.
Jojoba has a rich history of use among the Native American tribes, where they use it to treat sores and bruises – relieving the signs of inflammation. The oil is readily available online from numerous health retailers.
Here are eight benefits and uses for jojoba oil.

1. Makeup Remover
Women relying on chemical makeup removers can breathe a sigh of relief. Jojoba oil is the ideal replacement for your current make up remover, at a fraction of the cost. We all know how cosmetic companies love to charge astronomically high prices for their products. Why go to all of this trouble depleting your bank account when you can use jojoba oil to produce the same results?
Using jojoba oil on your skin is safe, and won't have any adverse effects on the health of your skin. Jojoba oil is hypoallergenic and helps to moisturize and condition your skin, unlike other makeup removers that leave your face feeling tight and raw after use.
Jojoba is perfectly safe to use around your eyes as well, and it removes mascara and eyeliner in seconds, without irritating your skin. The moisturizing effect of jojoba oil makes it a must for anyone trying to combat the signs of aging.