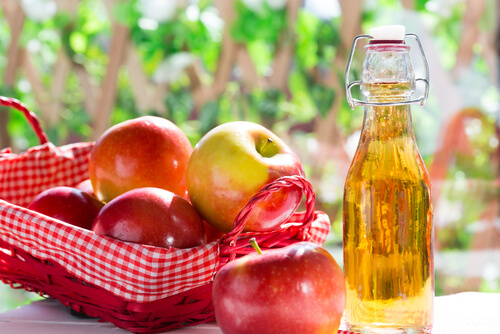 2. Apple Cider Vinegar
Apple cider vinegar has a lot of uses. Many people use it in the kitchen, but it can also be used to improve your health. You can drink it to help ease a sore throat or promote weight loss.
It can also be used to treat skin problems such a poison ivy, sunburn, or ring work. It's all-natural and easy to find. If you don't already have some at home, you can buy it at the grocery store.
Just apply a small amount to a cotton ball and dab it on the ringworm. Do it as often as needed until you notice the ringworm is drying up. The apple cider vinegar is very acidic and may burn slightly with the application. If the ringworm has been scratched and is open, the burning sensation maybe a little stronger.
Some people with sensitive skin may not be able to tolerate prolonged use of apple cider vinegar so watch for signs of skin irritation.