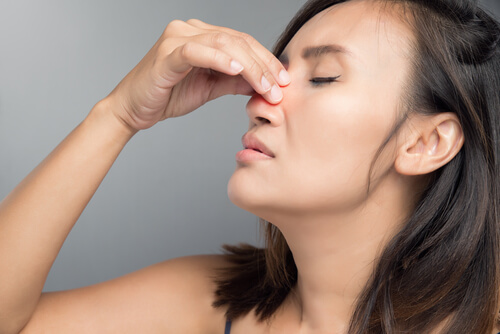 2. Discomfort in the nasal passages
Sometimes referred to as a 'sneeze but can't sneeze' sensation, discomfort in the nasal passages is really no fun for the person suffering. The uncomfortable feeling is likely the result of the capillaries changing within the nostrils and further up into the nasal passage. It could also be caused by the excessive production of mucus or the increased sensitivity that comes with a URI.
It is important to try and sneeze whenever you feel like it, as it's always better out than in, but it is equally important that a person shouldn't try and force a sneeze or blow their nose too hard. Aggravating and irritating the nasal passages by trying to give them too much encouragement can cause further irritation and discomfort, soreness and even result in nosebleeds. All of this amounts to making discomfort in the nasal passages a particularly unpleasant but very typical symptom of an upper respiratory infection. That's just the way it goes.