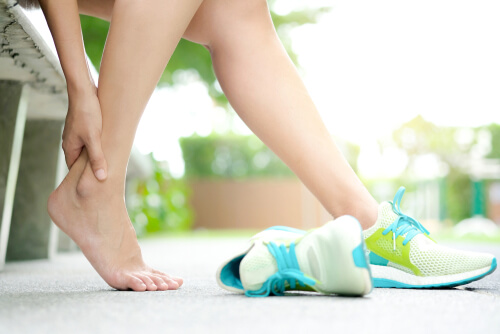 Heel pain occurs for a variety of reasons; it could be from rolling your ankle while slipping down the staircase – or from extending the miles you run each week. Runners, sportspeople, and athletes need to carefully monitor the health of their feet if they want longevity in their chosen activities.
Many seniors think that dealing with foot pain is a part of life – it happens, and there's not much you can do about it, you're just getting old. As a result of this attitude, people let mild symptoms of heel pain fester for far too long than they should, and left untreated, the condition advances.
Regardless if you're a sports person, runner, or a member of the senior community – if you experience heel pain, its best to seek professional medical help. There's a variety of treatments available to help heal most heel problems, but you need to make the trip to the doctor's office for a diagnosis first.
Here are eight possible triggers of heel pain.

1. Tendonitis
The legs, lower limbs, and feet have a network of ligaments extending from the lower back and core muscles, into the hips, down the things, through the calves, and around the ankles – ending at the toes. These ligaments assist with muscle contraction and joint movement. When tendons in the knee, calves, and ankles experience inflammation, they trigger a condition known as tendonitis.
The ligaments receive micro-tears through long training sessions in athletes, and as part of muscular degeneration and posture issues in seniors. When they heal, these tears leave behind scar tissue that starts to thicken the tendon. Repetitive stress that results in micro=-tears leads to excessive scar tissue buildup and the development of tendonitis.
Tendonitis can occur in the peroneal and Achilles tendons, resulting in symptoms of heel pain. If left untreated, the inflammation can spread to other tendons, such as the plantar fascia. Fortunately, a physiotherapist can treat the early stages of the condition, and most people make a full recovery.