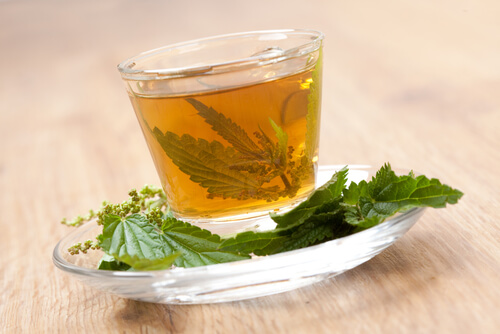 Milk Thistle is a herb that many people consume for its many health benefits. You can find many different types of Milk Thistle supplements, but you can also add it to your diet as another way to consume it. It can help fight liver disease, heart problems, jaundice, gallbladder problems, and diabetes. It acts as an anti-inflammatory and also has antibacterial properties that can help it fight off illnesses and disease.
The entire plant can be eaten, and many people enjoy eating the flowers, stalks, leaves, and seeds. It is safe for people of all ages, from five years old and up. While some people only take it when they experience health problems, it can be taken regularly to help prevent certain diseases and illnesses. Women who are breastfeeding, pregnant, or anyone who has certain allergies should not take Milk Thistle. Talk to your doctor to make sure it is safe for you.
1. Tea
Milk thistle leaves can be used to make tea. Simply crush up the leaves and add them to the tea. Strain the tea once it comes to a boil and serves it. You can sweeten it with sugar and honey if you do not like the taste of the tea plain. You can also find Milk Thistle tea that is packaged and already comes in the form of teabags. This is convenient because you can easily make a cup whenever you want it.
You can enjoy this tea as a warm drink before bed to get all the health benefits of Milk Thistle. Some people add other flavors such as cinnamon to the tea to disguise the flavor. It's perfect for serving with your favorite finger foods and can be enjoyed hot or cold. You can make it ahead of time in large pots or brew up smaller portions to enjoy one cup at a time.