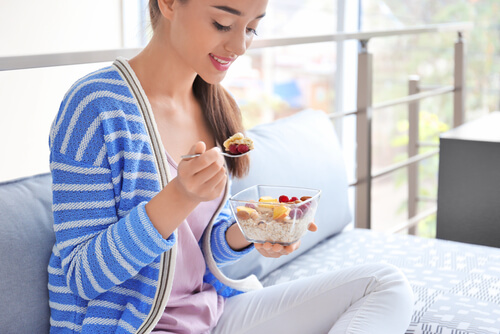 Hyperemesis gravidarum is the medical term used to describe morning sickness in pregnant women. Morning sickness is a selective condition, and it affects everybody differently. Some women only experience mild food aversions and symptoms of nausea. Others may feel severe symptoms of nausea and vomiting that become overwhelming and last throughout the entire day.
However, this condition is a common occurrence during pregnancy, and most women will feel some extent of the situation. Medical science is at a loss to explain the exact reason for the development of morning sickness during pregnancy. However, some individuals think it may have links to changes in hormones that lead to a heightening of the senses.
Morning sickness typically starts in the fifth or sixth weeks of the pregnancy, and reach their peak at the beginning of the third month. in most cases symptoms will dissipate at the start of the second trimester. Here are eight home remedies you can use to combat the effects of morning sickness.
1. Eat Smaller Meals More Frequently
Some pregnant women may decide to avoid eating in an attempt to prevent the symptoms of morning sickness. It's common for some women to skip breakfast and an evening meal to avoid food being in the gut overnight, or first thing in the morning. However, research suggests that women that adopt this approach experience a worsening of their symptoms.
Not eating can make your symptoms of nausea worse. Avoid having an empty stomach and try to keep your system working throughout the day by eating smaller meals more frequently. If you usually have a big breakfast, lunch, or dinner, then try splitting your meals out throughout the day at regular intervals instead.
This strategy helps your system stay light and productive while still giving your body, and your unborn baby, all the nutrition you need throughout the day. Try to eat a small portion of food every two to three hours from when you wake up to an hour before you go to bed.