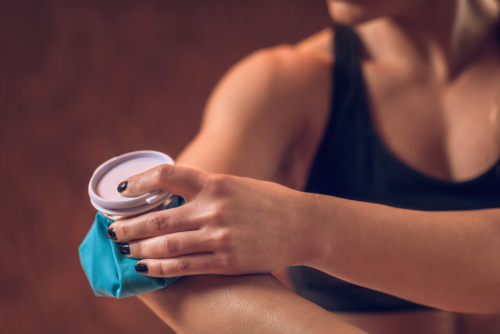 A torn ligament is a painful injury that can render you out of action for a long period of time, preventing you from training in the gym and potentially making a range of other everyday tasks extremely difficult too.
The tendon is the connective tissue that connects the muscle to the bone, while the ligament is the connective tissue that connects bone to bone. In other words, this tends to wrap around joints and prevent your knee from becoming dislocated – as an example.
The problem is that ligaments receive significantly less blood supply as compared with muscle. So, while a muscle can recover fairly easily from an injury, it takes much longer to see the same improvements in the ligaments.
If you should twist or sprain your knee, or any other joint, then you can find yourself out of action for a while, therefore, and you might also notice that further injuries tend to follow.
To that end then, read on and we'll explore some methods you can use to help encourage rapid recovery.
1. Cold Compress / Heat Pack
If you injure yourself and cause a tear or sprain of any kind, then you might find that the advice many people give to you is to apply a cold pack. The idea is to numb the area, while at the same time reducing inflammation to help relieve pressure. This not only prevents pain in the short term but may also be useful for stopping damage to the area caused by all that built-up fluid.
The problem with this approach is that it may be misled. That's because a ligament injury is actually more similar to a muscle injury, in that it is a softer tissue. Therefore, you might be actually better served by using a warm compress. This will encourage blood flow to the area, thereby providing the nutrients and oxygen that it needs to heal optimally.
Not only this, but it may actually be that we need some inflammation in order to help speed up recovery and prevent complications from infections and the like.