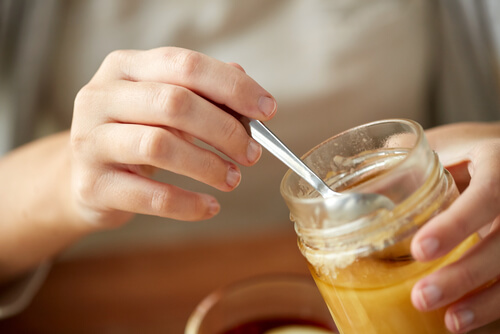 2. Honey
It's been called "nectar of the gods"… and we can see why! Honey is highly noted for its antibacterial and antimicrobial properties. It can be placed on wounds to reduce or draw out infection, put in tea for an internal application (quite tasty, too), and even used as a face wash (to treat bacterial topical facial infections – also known as acne).
Burns, bedsores, topical ulcers, and chronic wounds have been shown to be well supported in their healing process by the medicinal, magical – honey. Live enzymes releasing hydrogen peroxide are contained naturally in honey, which helps explain its many healing abilities.
Studies have noted 60 different kinds of bacteria to be inhibited by honey; even when it comes to methicillin-resistant Staph (MRSA)! As a side note, it's said to help provide relief for individuals with allergies, when local honey is consumed in small amounts daily.