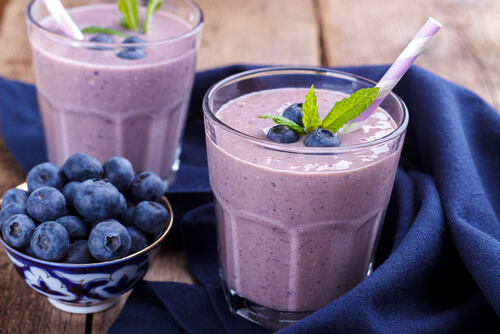 A polyphenol is an organic compound found in various foods. They're most common in fruits and vegetables, giving them they're characteristic color and fragrance. There are dozens of polyphenol compounds, and each of them has a unique impact on human health when we include them in our diet.
Most of us know about antioxidants and how important they are for clearing our bloodstream and neural pathways of toxins we accumulate during the day. Polyphenols are a subset of antioxidants, and they have a wide range of effects on the body when included in your diet.
Some polyphenols keep your skin looking healthy, while others help to promote good gut health, giving your immune system a boost. If you want to change your diet and start eating healthy, then increasing your intake of polyphenols is an excellent way to start.
Here are our top 14 foods rich in polyphenols. Add them to your shopping basket the next time you're at the supermarket and start your journey to healthy eating.

1. Blueberries
Blueberries are nutritious and full of sweet flavor. This superfood is a breakfast favorite, and they make the perfect complement to a bowl of muesli and yogurt in the morning. The flowering blueberry shrub produces berries with a bluish-purple hue and a dark purple flesh. Blueberries start on the plant as small green berries, and then gradually change color as the growing season progresses.
Blueberries are a great low-calorie snack, and they taste fantastic. High in Vitamin K and Vitamin C, blueberries are a great preventative measure for boosting the immune system against infection by viruses and bacteria, especially around the cold and flu season.
Flavonoids are the type of polyphenol found in blueberries. Of these flavonoids, anthocyanins have the highest concentrations in blueberries, providing you with health benefits such as protecting your body from oxidative stress caused by pollutants and other environmental toxins entering the body in the air we breathe.