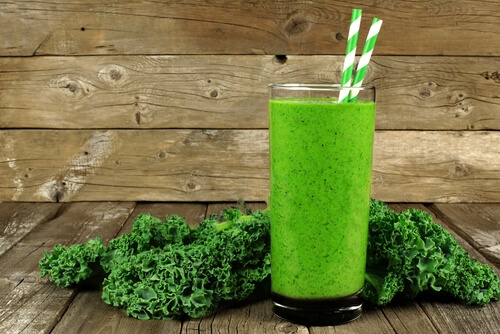 Vitamin K is an essential nutrient. This vitamin helps to build and maintain the bones in the body. Also, vitamin K also helps with blood clotting. On average, adult women should get about 90 mcg of vitamin K per day and adult men should consume around 120 mcg of vitamin K each day. If you are on a blood thinner, the intake of vitamin K could affect your medication dosage. Speak with a doctor as well as a dietician to understand what your daily value of vitamin K should be.
Vitamin K deficiency is not common. However, taking in lower amounts than recommended can affect your health over time. Inadequate intake of vitamin K may cause your bones to become weaker and can cause bleeding. Also, it might increase your risk of developing some forms of heart disease. Here is a list of 14 foods that will provide you with the vitamin K that you need.
1. Kale
When it comes to vitamin K, kale is a leafy green vegetable that should be a part of your regular diet. Kale has recently been touted as a superfood because of all of the vitamins and nutrients it can provide your body. A half-cup of kale contains 565 mcg of vitamin K, which means in just a small serving you will get all of the vitamin K that you need for a day. In addition to having a high amount of vitamin K, kale is also rich in potassium, folate, and calcium.
All of these are important nutrients that your body needs in order to perform at its optimum levels. Kale also contains many other important vitamins and minerals that your body needs. You can make a great salad using kale or add some to a smoothie for an extra nutritional boost. Using it in a smoothie is great for those who are not big fans of the taste of kale.