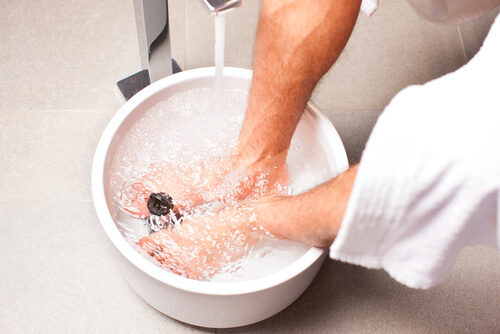 Metatarsalgia refers to pain experienced in the foot. Typically this term is used to describe the pain that is located near the ball of the foot. This condition is common in people who participate in running sports such as track and field as well as any type of high impact sport such as football or soccer.
People who are suffering from metatarsalgia will typically experience pain that is located near the metatarsal joints, which are located near the toes. There are several reasons that a person may experience this type of pain including gout, osteoarthritis, stress fractures, calluses, and simple pain and irritation.
Typically, metatarsalgia will start out as mild discomfort that then turns into an extreme amount of pain that may leave a person struggling to stand, walk, or run. If you are suffering from metatarsalgia there are a few things that you can do in order to ease the pain.
Here are 8 home care tips for dealing with metatarsalgia.
1. Contrast Baths
If you are suffering from foot pain you may want to try hot and cold immersion therapy.
Contrast baths are often used as a way to soothe sore muscles. This practice can help to reduce pain, swelling, and will encourage the flow of blood in the feet. The warm water will cause vasodilation. Following it with cold water will produce vasoconstriction. Alternating between hot and cold baths will help pump any stagnant fluid out of the body. This helps to reduce inflammation.
To perform this therapy for your feet, set on the edge of a tube and allow the warm water to flow over your feet for three minutes. Switch the water to a cold that you can tolerate. Allow the cold water to flow over the feet for three minutes and then switch back to warm. Do this altering from hot to cold six times.