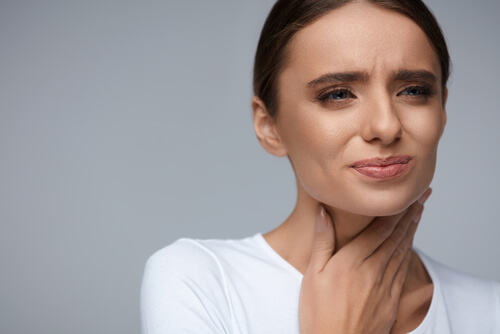 3. Difficulty Swallowing
Myasthenia gravis starts with the facial muscles and progresses to the neck. Some patients experience symptoms of "bulbar myasthenia gravis" that affect the lower cranial nerves, inhibiting the ability to swallow, known as "dysphagia," as well as challenges with speech, also known as "dysphonia." As the condition progresses, patients may also notice weakness in the palette, as well as swelling of the tongue.

These bulbar symptoms are rare, and only affect up to 6-percent of people diagnosed with the condition. Those individuals that do experience bulbar symptoms are at a higher risk of choking and gagging on food while trying to swallow.

Treatment for bulbar myasthenia gravis involves the administration of drug therapy. Physicians recommend neostigmine, (Prostigmin,) and oral prednisolone to reduce symptoms associated with the disorder. Patients who undergo drug therapy can expect their symptoms to subside in as little as a week after diagnosis and starting the therapy protocol.