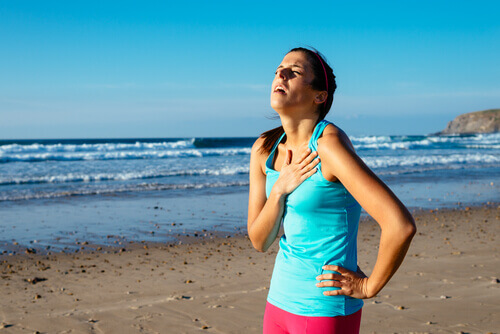 2. Shortness of Breath

Individuals who are suffering from emphysema, experience shortness of breath alongside their chronic coughing symptoms. COPD damages the lungs, enlarging the alveoli in an attempt to draw in more air. Emphysema affects the air sacs and their ability to exchange CO2 for oxygen. As a result, patients with the condition find that they experience shortness of breath from completing even minor tasks, such as walking.

Without enough oxygen circulating in the body due to COPD, the muscular system becomes tired quickly, leading to symptoms of light-headedness that accompany shortness of breath. Many patients have to sit down to recover their breathing, and some patients in the advanced stages of the disease require administration of oxygen to relieve the symptoms and return to normal breathing.

Shortness of breath feels like you have a gorilla sitting on your chest when you're trying to catch your breath, and without supplemental oxygen treatment, you may end up experiencing a stroke.