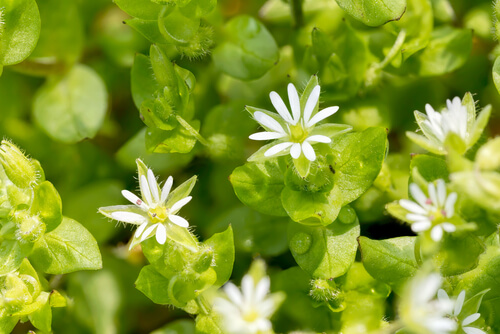 Before you head out into the garden with that bottle of weed killer, take a look at the type of weeds you're intent on destroying. Many yards across the United States have chickweed growing in the grass and flowerbed, and between the bricks in the patio or driveway. However, before you douse it with a weed killer, it may surprise you to learn that chickweed has numerous health benefits.
Also known as, "the snow in the summer," chickweed earns this moniker due to the white star-shaped flowers that bloom in the spring through to the start of the fall. Chickweed is nutritious and tastes fantastic, which is not what you would expect from a weed growing readily in the garden. This plant is a rich source of vitamin C, beta-carotene, potassium, magnesium, calcium, niacin, selenium and Gamma-linolenic-acid.
Preparing remedies with the weed at home is simple. Here are eight health benefits and medicinal uses for chickweed.
1. Flu Remedy
People who are suffering from the effects of the viruses that cause colds and flu can benefit from using chickweed as part of their range of home remedies. Chickweed contains compounds known as, "saponins," which assist in relieving the symptoms of inflammation in the sinus and throat, as well as help with the breakdown of secretions from the mucous membranes.
Chickweed is beneficial as an expectorant, helping the lungs expel any pathogens, debris or harmful particles. The expectorant properties also assist with the clearing of mucus in the lungs and airways, easing the effects of congestion in the patient.
The vitamins, minerals, and antioxidants, found in chickweed, help to relieve the effects of inflammation while boosting the immune system, helping it to get rid of the infection faster.
Chickweed dries out the sinus and helps the patient breathe more comfortably while reducing the buildup of fluids in the lungs. These positive effects make chickweed beneficial for a patient suffering from any congestive illnesses, including bronchitis and pneumonia.