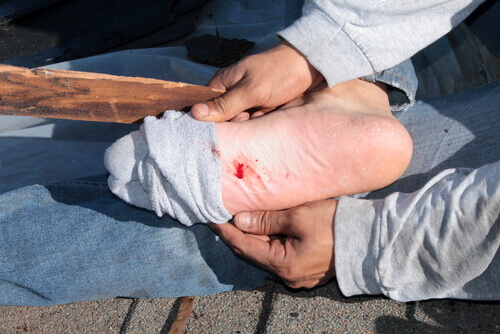 Tetanus is a bacterial infection scientifically known as Clostridium tetani. The most common ways people get exposed to tetanus is open wounds and sores. The risk of tetanus becomes worrying when you're exposed to a "dirty" kind of wound: Like stepping on a rusty nail or cutting your foot on a rock in filthy water.
Tetanus is a very serious infection, and if you are showing any symptoms then you should immediately consult your doctor: Untreated tetanus can and will lead to a very painful death. But a tetanus vaccination lasts for at least ten years once you've had one and can protect you from developing a tetanus infection if you happen to get exposed to it.
And, tetanus can still be treated if you spot the signs in time and rush yourself to medical help. Here's more about the eight most common tetanus symptoms and how to recognize them.
1. Localized Symptoms
The first signs of a tetanus infection that's coursing through your body is sometimes only experiencing localized symptoms – that means that the symptoms are centralized to, for example, only the digit or limb where you developed the original wound. You might at first notice that the wound becomes red and swollen when you first hurt yourself, and no amount of antiseptic treatment will be able to get rid of the ache that starts developing at the injury site.
Then, you might start to experience pain – tingling or numbness – at the injury area which might spread to your limbs. But, as we've just said, you might also experience it only in a localized area. Tetanus can take between 4 and 21 days to show its symptoms, and symptoms don't always start with a wound that doesn't heal. Tetanus infection can start showing with any symptoms on this list, so pay attention.