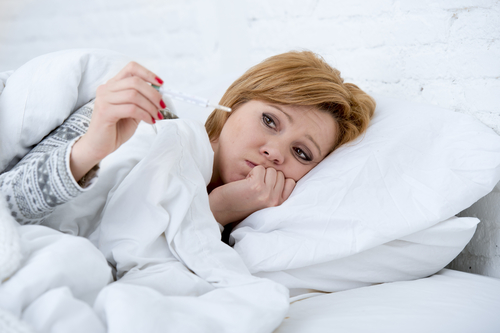 Necrotizing fasciitis is a condition more commonly known as flesh-eating bacteria or flesh-eating disease. It is a very serious medical condition that can be fatal if not treated right away. The name comes from the fact that the bacteria causing the infection actually does destroy tissue and cause tissue death around the infection site and then further as it spreads throughout the body.
There are between 600 and 700 cases in the United States each year and of those, as many as 30% result in death. Most people who get the disease are adults. You can get necrotizing fasciitis in several ways but usually enters through some kind of cut or abrasion. This might happen due to a small cut on the hands or arms or legs, an insect bite somewhere on the body, or through the small punctures in the skin created when there is an abrasion.
1. Flu-Like Symptoms
The first symptoms that you are going to notice are flulike symptoms. Flulike symptoms are particularly alarming because they seem so innocent. You may not even realize that you have necrotizing fasciitis with the symptoms. You may think that you simply have a cold or flu. In many cases, the patient does not realize that they have something more serious than a cold or flu until they start to experience some of the other symptoms that are listed here.
Unfortunately, if you wait until it is too late, then even the IV antibiotics and other treatments for the flesh-eating disease may not be effective. That's why you want to be so hyper-aware of the symptoms so that at the very first sign that your cold or flu is not normal you can go in and get checked out. Your doctor has the ability to test for necrotizing fasciitis very easily.