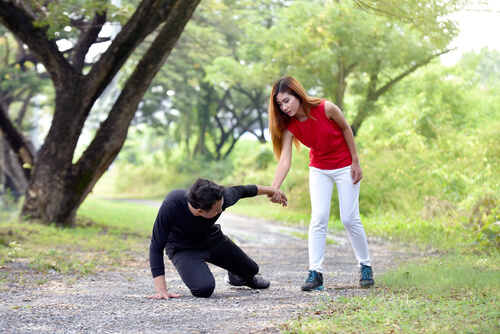 Lou's Gehrig's disease is a nervous system disease that impacts physical function and weakens the muscles. It is a disease that is rare in the US, but when it occurs, there are less than 20,000 cases. It can be treated, but there is no cure. When it begins, the hands and feet become weak. For instance, you will notice that it will become difficult to grip the steering wheel when driving. You may have to stop driving when you have this disease. It will become difficult to breathe because the lungs become affected.
Once you notice that your hands and feet are becoming weak, seek medical attention right away. The sooner you get medical attention, the doctor may be able to prescribe some medications that will help you to keep your muscle movement longer. The signs of Lou Gehrig's disease occur slowly. You may have slurred speech as well.
Here are eight signs of Lou Gehrig's disease.
1. Stumbling is a sign of having Lou Gehrig's disease.
Your muscles are becoming weak and it's difficult for you to maintain your balance. Your feet have become weak as well. In order to be able to walk without stumbling, you'll need to use a cane or walker. Your doctor will take a series of tests, such as imaging and blood tests to see what is causing the stumbling.
If you have a two-story home, it is a good idea to not use the upstairs anymore because you could hurt yourself by falling. It may be best to seek housing that just has a one-story or sleep downstairs in your two-story home. When you sit down and get up, you'll need to take your time because you can easily fall. Always use your cane or walker to help you to get up and down. Also, use railings when you have to go up and downstairs.