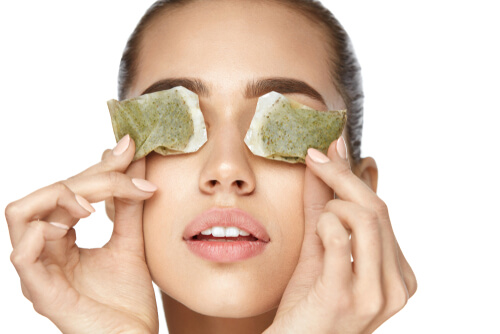 2. Tea Bag Compress
You can try using tea preparations to help assist with your symptoms of inflammation and irritation caused by the onset of bulging eyes. Patients who are dealing with the condition may find that they develop adverse reactions to their inability to blink. One of the more frequent complications associated with the situation is the onset of dry eye syndrome.
We recommend that you give chamomile tea a try. Brew yourself a hot cup of chamomile tea and let the teabag steep 4 to 5-minutes before drinking. After you finish drinking the tea, squeeze out the tea bag and place it over the affected eye.
Chamomile is a natural nervine agent that helps to soothe the nervous system. By placing the tea bag over the eye, you relieve the stress in the eyeball and the ocular nerves. Letting the tea soak into your eye helps to lubricate the eyeball, and provides the eye with a dose of this potent nervine agent. Repeat this treatment in the morning and evening to gain relief from bulging eyes and dry eye syndrome.