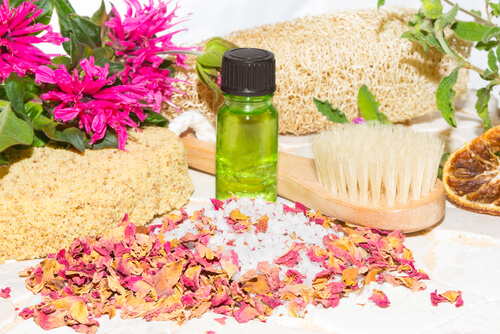 The bee balm plant produces flowers in shades of red, scarlet, pink and purple. Bee balm is a popular fixture in flowerbeds across the United States, with the long, trumpet-like flowers of the plant offering both medicinal and dietary benefits. During the summer, the sweet scent of the plant attracts bees and birdlife.
Bee balm flowers feature antimicrobial, antispasmodic, and anti-inflammatory properties that make them ideal for treating a wide variety of digestive issues while enhancing the health of the immune system. When taken internally, bee balm can soothe stomach cramps, and aid digestion by reducing inflammation.
Externally, you can use bee balm to treat the effects of pain, and irritation associated with stings and bites, while helping wounds heal faster. The sedative-like effect of bee balm comes from its nervine properties that soothe the nervous system when you're feeling stressed. If you have a bee balm plant growing in your garden, here are eight ideas for practical uses of the flowers.
1. Bee Balm Infused Oil
Making a bee balm infused oil is not as challenging as it seems. You can make the oil at home in the kitchen, without much effort, all you need for it to be a success – is the right ingredients. If you have bee balm growing in the garden, harvest two or three cups of the flowers from your plants. Place the flowers in a mason jar and cover them in a carrier oil.
You can use whatever carrier oil you like, but we prefer jojoba oil for its versatility and long shelf life. Olive oil works as well, but you can't expose it to sunlight or the lipid structures in the oil may turn rancid. After covering the flowers with the oil, seal the jar and leave it in your pantry cupboard for 6 to 8-weeks.
During the infusion process, the oil extracts the beneficial compounds from the bee balm, separating the antioxidants, polyphenols, and vitamins from the plant matter. After the infusion period ends, strain the oil through cheesecloth to remove the flowers.