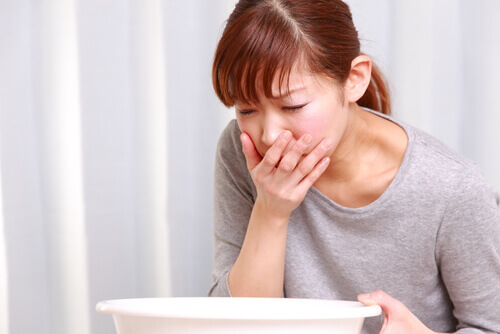 2. Nausea and Vomiting
After the cramping and nausea symptoms show up, the next stop on the gastroenteritis infection roadshow – is bouts of nausea. Nausea is that feeling in your stomach that makes you feel queasy. If nausea intensifies, it leads to a sense of wanting to vomit.
Vomiting occurs, and the person may violently purge the stomach of its contents. In some cases, vomiting symptoms may be so severe that the person still ends up dry heaving, even though their stomach is empty.
This excessive vomiting causes issues with hydration, as it becomes hard to hold anything down – even fluids. Doctors can treat symptoms of nausea and vomiting using drugs. However, the patient may still experience some mild effects of nausea even when medicated.
Once again, the extent of your symptoms depends on what bacteria or virus is responsible for the infection. The severity of symptoms also depends on the strength of the infected person's immune system as well.